From The Daily Sentinel
November 19, 2017
Crafting Music
Grand Junction luthier makes instruments beautiful for eyes, ears and charity
by ANN WRIGHT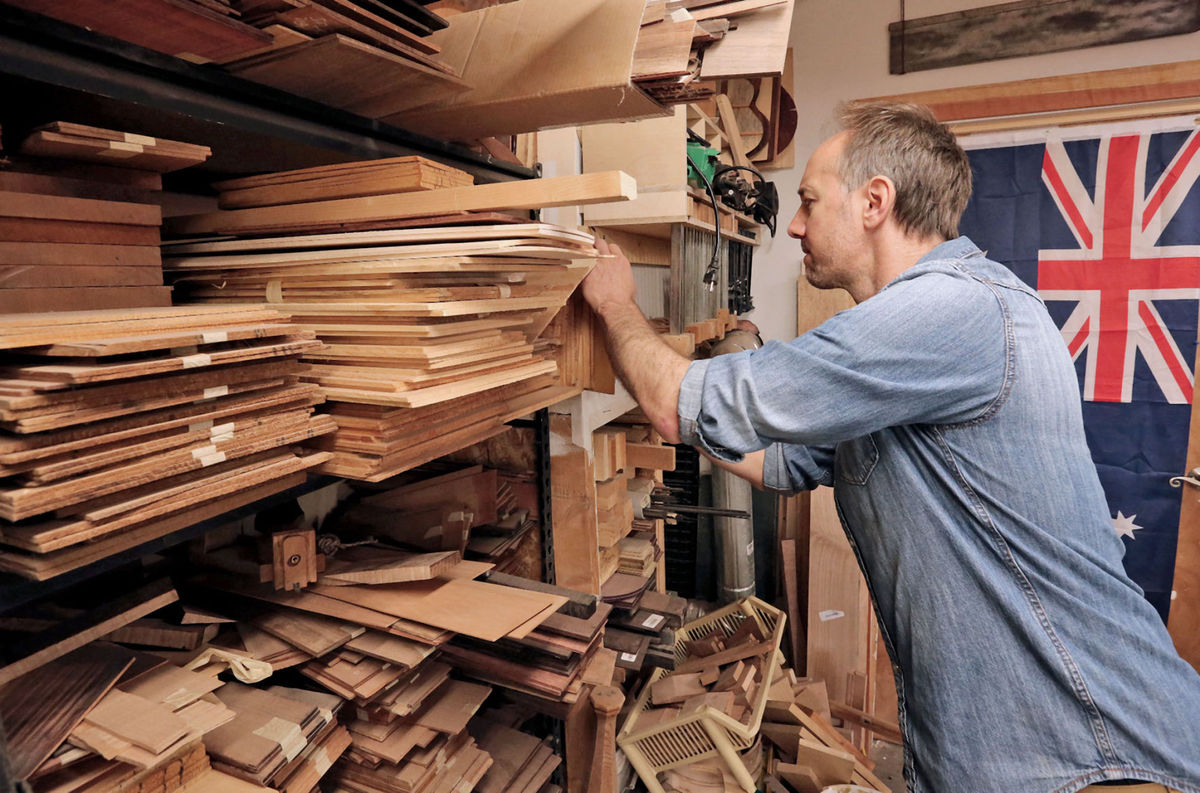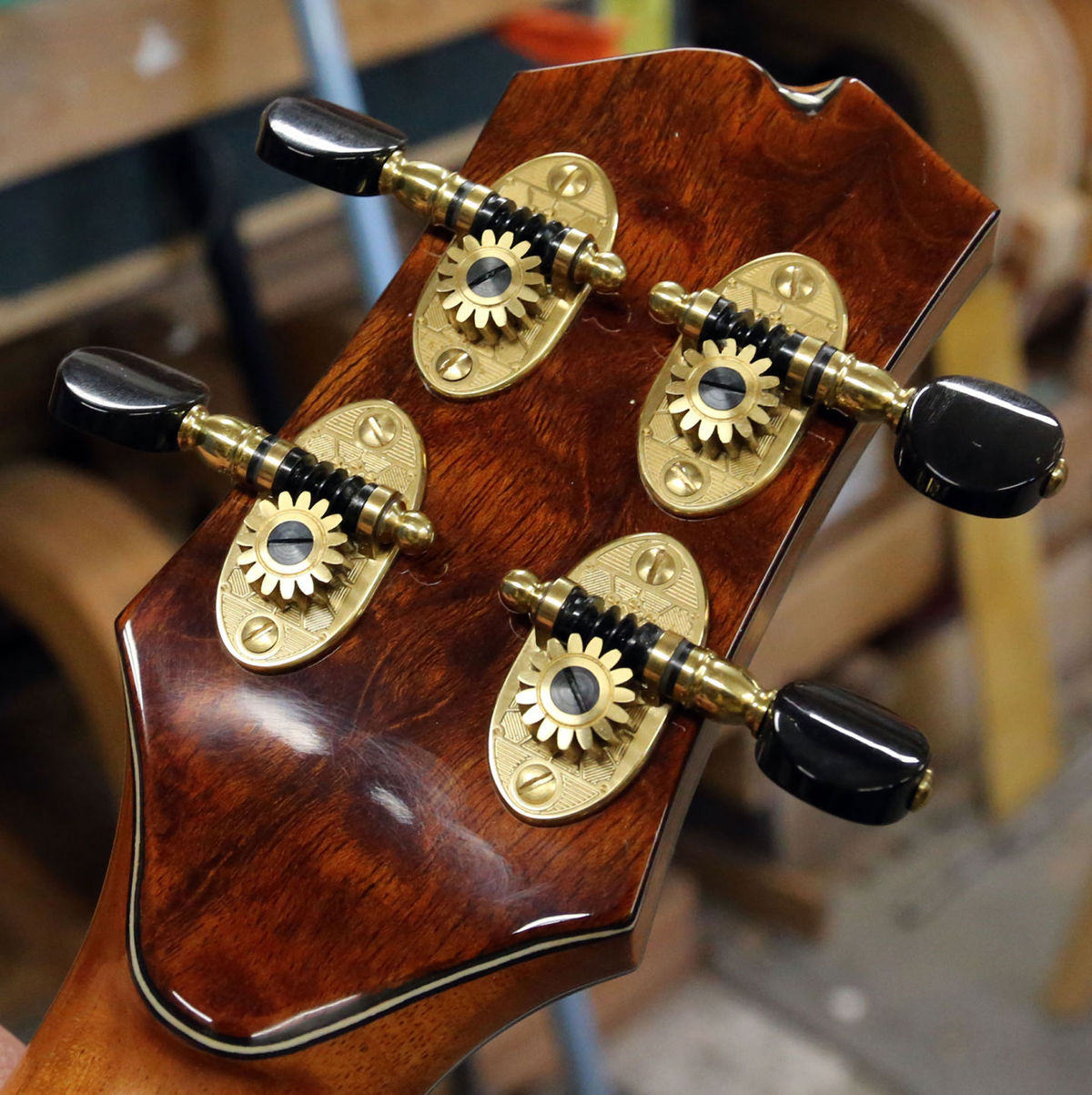 Beau Hannam looks at a piece of wood and hears music.
He sees melodies in the grain, tones in the curves he knows he can bend into something that once grew tall and straight.
"You just learn to hear what's going on in the wood," Hannam said, pulling a thin piece of wood out of a stack and tapping it so that it vibrated with a quiet but raw, deep sound. He selected another piece and it responded to a tap with a brighter, higher pitch.
"Each one has a different ring," Hannam said, and through the years he has become better at hearing the potential of each voice.
Being a luthier is like being an artist or an actor, he said.
"It's a vocation, something you really love, but you're not going to get rich," Hannam said with a half smile and looking around at his humidity-controlled Grand Junction workshop, where tools and bottles were lined up like school children — everything in its place, but not perfectly because his workshop is an active place, after all.
Veneers, rubs, dyes, shellac were in one general area, various saws were here and there, and wood was everywhere. Mother-of-pearl shimmered in an array of colors from the inlays on ukuleles and guitars in progress: gold, white, red, abalone and black "that's a bugger."
Hannam is Australian, thus the mild swear word, the Australian flag hanging on a door and calendar-page beach scenes tacked on the wall high above a workbench.
"My mom brought me a calendar of the northern beaches of Sydney," Hannam said and pointed to a pine tree in the background of a picture of Mona Vale Beach that he is sure is the huge pine standing in his parents' front yard.
The back of another workshop door was covered with invoices for Hannam's custom ukuleles and guitars that will be sent to buyers as close as Fruita and as far away as Hong Kong, Melbourne and Japan.
"I've got about 2–2½ years of orders. I'm backed up," Hannam said.
That is because Hannam's instruments are time-intensive pieces of art for both the ear and eye and because he recently spent more than 100 hours devoted to a ukulele for Luthiers for a Cause's "Voice of the Luthier" project.
For the project, Hannam and five other luthiers each built a special tenor ukulele to be revealed at the Hawaii Ukulele Festival this weekend in Honolulu. The ukuleles will be auctioned in December with the proceeds going to The Ukulele Kids Club, a nonprofit that uses ukuleles for music therapy in pediatric hospitals.
What makes the six ukuleles special is that each was made from the same wood that is legendary among luthiers. The backs and sides come from "The Tree," a Honduran mahogany tree felled in the 1960s. It landed in a ravine where it wasn't recovered for more than a decade, according to an article from Guitar Aficionado magazine posted at luthiersforacause.org.
"It's incredible figured wood," Hannam said while showing off the ukulele he made for the project in his workshop several weeks ago.
The tops of the ukuleles are "Lucky Strike" redwood from California. That tree had naturally fallen and was salvaged in the 1990s, according to a Guitar Bench Magazine article also posted at luthiersforacause.org.
And so the luthiers are the biggest difference in the six ukuleles.
"There is an often-asked question in the world of acoustic instruments, and that is: How much is the final tone of an instrument determined by the woods used and how much is determined by the instrument builder?" wrote Eddie Monnier, co-founder of Luthiers for a Cause, in an email shortly before the festival in Hawaii.
About a year ago, Monnier convinced luthiers Hannam, Steve Grimes, John S. Kinnard, Jay Lichty, Jake Maclay and Joji Yoshida to donate their time and expertise to answering this question.
"We wanted to use world-class luthiers for this project, so there was an obvious short list from which Beau was selected," Monnier wrote. "Beau is recognized not only for the magnificent tone he achieves from his instruments, but also for the many elegant aesthetic details he incorporates, such as sculpted heels on his instrument necks, mosaic rosettes, and fretboards with floating frets."
Hannam is pretty sure he could identify any of his instruments on sight, but for others looking to recognize his work, there are a couple giveaways beyond the stylistic "H" somewhere on the outside of the body of the instrument, a red wax seal and a label inside the body.
There's the mosaic rosette around the sound hole mentioned by Monnier and two curves at the top of the headstock (unless a customer has requested otherwise) that are inspired by the mountain ranges of Colorado. He moved to the state after he and his wife, Laurie, were married in 2013, the same year he built his workshop tucked away in Grand Junction where Laurie lived.
But without all those, Hannam would still know one of his instruments. When you spend as many hours as he does creating an instrument, you just know it, he said.
Once he and his wife were walking around the Musical Instrument Museum in Phoenix and came across a guitar made by Gilet Guitars that Hannam recognized. They went over to check out the plaque with the guitar and, lo and behold, there was his name listed among the luthiers.
"It was a shock to see my name there," said Hannam, who started his career in luthiery in 2002 at Gilet Guitars School of Luthiery in Sydney. This followed art school and studying theology and philosophy, "so I've got the same training as a priest," Hannam said with a laugh.
It was during those university years that he found a second-hand book about making guitars, an instrument he learned to play while in primary school. However, before picking up that book, it had never occurred to him that people hand make guitars, he said.
He read the book cover-to-cover, "didn't understand it, but I loved it," he said.
He began at Gilet as a student "and I slowly began to work there" first as a teacher and then as a full-time luthier.
While he was teaching, one of his students was a surgeon at a transplant hospital in Sydney. The surgeon told Hannam "the only thing as hard as transplant surgery is luthiery."
The human body is self-healing. Wood is not, and so a luthier must be more precise, Hannam said the surgeon told him.
"You can't have a short attention span and be a good luthier," Hannam said. It's like "Fast & Furious" versus "The English Patient."
"It's a meditative state you have to be in," he said. You're working with power tools and dental tools, you don't want to lose fingers and the detail work is "headache material."
If you break an expensive piece of wood, "you'll cry yourself to sleep because you lost hundreds of dollars," he said.
A shaving can be the difference between something fitting or not fitting, he said. "It's really fine work."
And there is a certain rhythm to all of it. Hannam currently has 12 ukuleles and guitars all in various stages of completion. Because he is a custom builder with each instrument differing per the desires of the buyer, "it's hard to get in a roll like a factory," he said. "It's slow going, but it keeps the day interesting."
Over the years he developed a mental catalogue of the traits and sounds of different wood.
"One way to identify a wood species is to smell it," he said.
Brazilian rosewood, Tasmanian blackwood or Sitka spruce, "my nose knows it," he said.
In addition, "I don't throw away anything. I'm like a wood hoarder," he said. "I keep splinters almost."
He never knows when just a bit of something might be needed to accentuate a bit of something else. He once used the unique grain in a small piece of wood to create the head of an elephant for a one-of-a-kind headstock.
Some of Hannam's hoarded splinters and bits of mother of pearl, another thing he tucks away, found their way into his Luthiers for a Cause ukulele now on display at the Hawaii Ukulele Festival.
Hannam was keen to see and hear how it compares to the five others. He also was glad to know that his efforts will benefit an organization that uses music to put smiles on the faces of children.
"It's a really good cause and I'm proud to be a part of it," he said.
To learn about Beau Hannam, go to beauhannamguitars.com; Luthiers for a Cause, luthiersforacause.org; and The Ukulele Kids Club, theukc.org. A podcast about the tenor ukuleles created for the "Voice of the Luthier" was to be recorded at the Hawaii Ukulele Festival. A link to that podcast should be available at Luthiers for a Cause's Facebook page later this year.